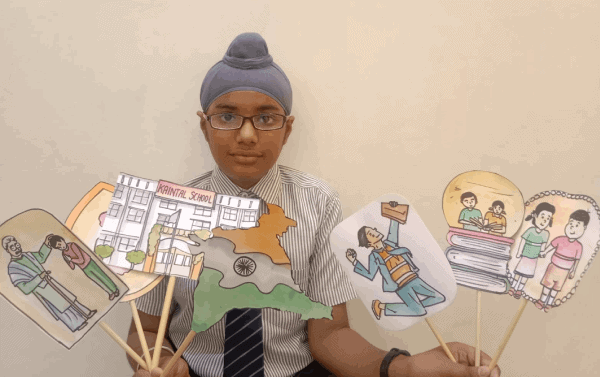 Hindi Recitation Competition
Reading books stimulates, encourages and activates reading that enhances the learning process. Keeping this in mind Kaintal School organized a virtual Hindi Recitation Competition for classes 6 to 8.
Such activities help the students to develop confidence and improve vocabulary. Students touched different areas with their impressive poems. They enjoyed the beauty of expressions, thoughts feelings, and music of words. The Judges appreciated and applauded the performance of the participants and enjoyed the competition.
Khushmannat – VI C & Yessinia – VI A turned out to be the winner from Class VI. Eva Sharma from VI B secured the second rank & Tanshveer Kaur from VI A stood third.
Harsimarpal Singh from VII A, Ambreen Kaur from VII B, Hargun from VII D secured first, second and third positions respectively.
Bhavya from VIII D, Rajan from VIII D & Anhadjot Singh VIII B sealed the top three positions.
Overall it was a very enriching experience for the spectators as well as the participants.