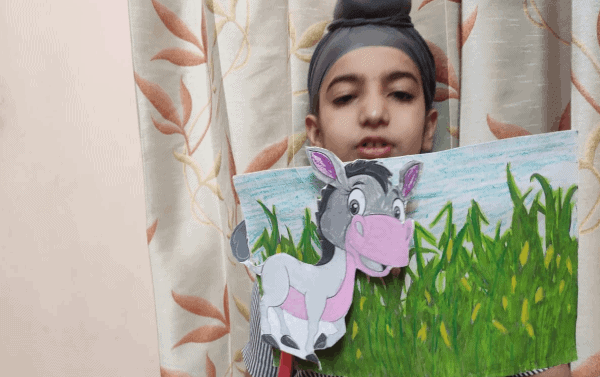 Hindi Story Telling Competition
Imagination is the key to creativity, and children can be trained in many ways to develop imagination skills. One of the ways is storytelling which teaches children about the world, provides real-world social interaction, and develops both knowledge and love for stories. Keeping the same in mind, Kaintal School organized a Hindi Story Telling Competition for Classes 2 to 5.
Each participant narrated a beautiful moral story using different props. Students participated actively and impressed the judges with their confidence. The activity helped the students to teach good moral values, enhance their vocabulary and speaking skills.
The Winner's Names are as follows :
From Class II                                                                                     
Simrandeep and Gurmehar stood first.
Brahmneet and Aamya stood second.
Mahi, Gurnihal and Sehajpreet stood 3rd.
From Class III
Jivraj Stood first.
Mansimar Singh and Hardik stood second.
and Devanshi stood third.
From Class IV
Ekamjit Sandhu stood first.
Yadvi and Prabhshukran stood second.
Anmolpreet stood third.
Savreen won the Consolation prize.
From Class V
Moulik stood first.
Arshnoor Kaur stood second.
Tejas stood third.