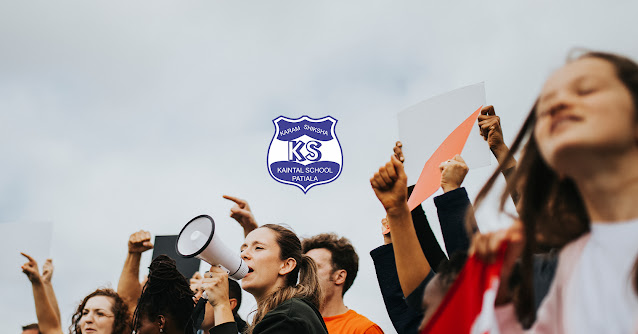 Making Students Responsible Social Citizens
Academic achievement is one of the leading aims of many schools these days but it is equally important to raise students who will grow up to become responsible social citizens of India. As one of the finest Patiala ICSE schools, we make students socially responsible in the following ways.
1. Active Participation in Awareness Programs
Children learn best by doing. When they are simply taught about something within the confines of the classroom walls they will forget it sooner or later. But active and dedicated participation in awareness activities, programs, workshops and drives exposes them to practical experiences which lead to better understanding of ground reality and the situation at the grass-root level and deeper engagement with the community. For instance, participation in cleanliness drives will make students realize how dirty their surroundings are, where the rubbish comes from, why people litter, their psyche and how to educate people to reduce pollution.
2. Discussing Social Issues in Classrooms
It is important to impart social science education in classrooms to children where they are taught about the issues plaguing the society and how we can contribute to eradicate them. Teachers must make opportunities for peer-to-peer learning where students share their opinions on socio-cultural issues with each other, have healthy debates and discussions about them and form educated and well-informed opinions. The learning environment has to feel easy, one that 'inspires' and 'fuels' children to work for the betterment of the society as the motivation for involvement in social issues has to come from within the student and not forced upon them.
3. Community Volunteer Work
Community work and volunteering are the real practical experience and actual work that brings about real change. Good schools like Kaintal School encourage participation in volunteer activities. For example, organizing events like a drive to collect clothes for underprivileged kids where students volunteer brings them face-to-face with the plight of such kids. It makes them more aware and gives them a sense of fulfillment as they feel they have made some concrete contribution to the society. They start to broaden their perspectives.
4. Structure Curriculum to Include Social Projects
The school curriculum should be designed to include projects and activities that center around social issues. For instance, the school exhibition can held on the theme of water conservation practices for the economically weak. The annual program can be based on the issue of education of poor kids. Even music and dance can be used to teach about social issues. School clubs and societies can take up projects that are relevant to social issues as they lead to more engagement.
At the best ICSE School in Patiala, we believe in making students socially responsible citizens of India by providing them opportunities to participate in social awareness programs, drives, activities and projects.