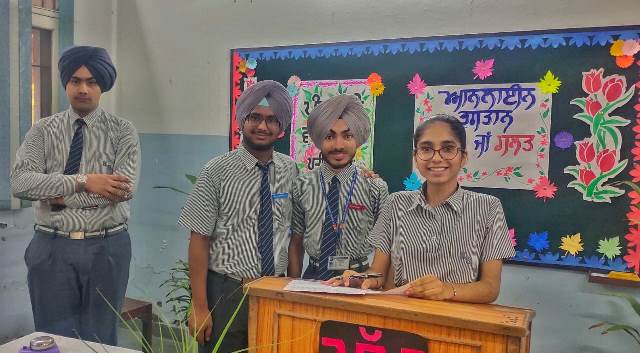 Punjabi Declamation and Debate Competitions
Kaintal School recently hosted an exhilarating display of linguistic prowess and oratory skills with the Inter-House Punjabi Declamation and Debate Competitions. Students from classes VI to VIII participated in the Punjabi Declamation event, while students from classes IX to XII engaged in a thought-provoking Punjabi Debate. These competitions provided a remarkable platform for students to showcase their eloquence, knowledge and passion for the Punjabi language.
The Punjabi Declamation event saw young orators from each house take the stage, captivating the audience with their heartfelt expressions, persuasive delivery and flawless command of the language. The Punjabi Debate competition witnessed intense intellectual discussions and exchanges of views as participants engaged in passionate debates on topics of social, cultural and contemporary relevance.
These competitions not only provided a platform for students to express themselves but also nurtured their language skills, eloquence, research capabilities, and ability to think critically. Congratulations to all the participants for their exceptional performances, and a special mention to the winners who demonstrated exceptional oratory and debating skills.